Fulfilling, Satisfying, Healing
Movement Sanctuary Private Sessions
Back in-person in 2023 for private sessions, Monday afternoons only
Contact Marjorie to make an appointment
What moves you?
Let your body do the talking.
Listen, respond, experience.
Trust your inner knowing.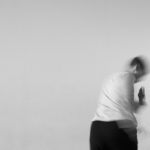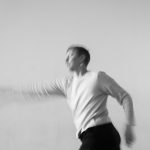 This form of movement can be a spiritual practice. It supports the unconscious to be expressed through movement, and thereby bringing it to conscious awareness. This develops the "inner witness" or ability to be more present and choiceful in your life.
How it happens: Enter with me into an open studio space. Begin by listening to how you want to move. Follow your impulses to move in ways entirely your own. I am there as a witness. I will have my own experience of your moving, or of your stillness. The mover (you) speaks of her experience and the witness (me) listens.  In service to the mover, the witness then shares her own experience of the movement.
Location:
The Beautiful Studio, #214
2242 University Ave. W., St. Paul (at Hampden Ave.)
Attendance at the introductory evening is strongly encouraged for those new to this movement form. Bring a water bottle and journal and dress in comfortable clothes.
Cost: $50, cash or checks only. (Sliding scale available $25 – $75)
Bring a water bottle and journal and dress in comfortable clothes. Come as often as you can or desire!
Call or email Marjorie for more information:
612-242-6646 marjorie@marjoriehuebner.com
"If you listen at the walls of one human being, even if that one is yourself, you will hear the drumming. Older creatures are remembered in the blood. Inside ourselves we are not yet upright walkers. We are tree. We are frog in amber. Maybe earth itself is just now beginning to form… Something beautiful is inside of us. You will see. Just believe it. You will see." Linda Hogan, Solar Storms
This practice of self-expression through movement with a witness is the basic form of Movement Sanctuary, also known as Authentic Movement or Contemplative Dance. The form, so seemingly simple on the surface, provides a container for our inner depth to be revealed to us—to allow the unconscious to speak through the body.
Movement Sanctuary is also "a spiritual practice," "moving imagination," "moving the body, moving the Self, being moved," "refreshing and deeply satisfying," "personal and archetypal," "a resource for choreography," and more!  Together the roles of The Mover and The Witness create a space in which respect, healing, and support may occur in community.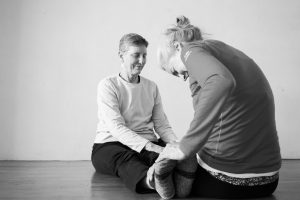 Movement Sanctuary/Authentic Movement Facilitator
I have been practicing Authentic Movement, also known as Contemplative Dance, for over 30 years. I received my certification in Contemplative Dance from Alton Wasson and Daphne Lowell in 2005. I teach Authentic Movement as a spiritual practice. I have also had many years of experience with yoga, modern dance, qigong, and vipassana meditation.
It has sustained me during some of my most stressful times, including my experience with breast cancer, my father's Alzheimer's disease, and my mother's Parkinson's disease. It continues to support me as I navigate the aging process, and it helps me to find incredible ease and joy in my connection to all that is life-giving.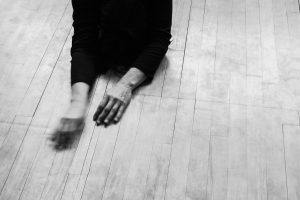 Origins of Authentic Movement
"Movement is the great law of life.  Everything moves."
Mary Whitehouse
Around 1956, Mary Starks Whitehouse, dancer and teacher (and now known as a Dance Therapy pioneer), gives a talk called "Creative Expression in Physical Movement is Language Without Words." She describes how, when we were young and without words, our movement was "random, erratic, but as our…..awareness increased, we became able to reach out, grasp and look around us. We were busier moving than anything else in the world, and long before we had words, we communicated how we felt through our bodies……We were undivided."
"Any change has to come through consciousness, awareness, first of one's actual condition and, second, of the possible meaning of that condition. Becoming aware of movement as a kind of non-verbal language, finding out what and how you are speaking has many surprises in it."
Mary Whitehouse
Influenced by Jung and his exploration of the unconscious, Mary Whitehouse began to work with movement as a way to access the unconscious through movement.  She was interested in creating an environment that supported us to know this undivided self once again. "There are many ……approaches to the entity we call the person; there are not so many approaches to a complete, a whole human being, including what is not known of the self down to a level of belonging to humankind….." This was her gift, providing a space in which this connection was able to be felt.
Other pioneers in this practice of Authentic Movement are Janet Adler and Joan Chodorow, both of whom studied with Mary Whitehouse. These women, and many others, have brought both more form and more variation to what we call Authentic Movement/Contemplative Dance today. Those who practice it celebrate the fact that it is still evolving. It is a living form.
In Authentic Movement we develop our "inner witness." The inner witness is the ability to be moved by the unconscious, allowing it to move you and be aware of being moved at the same time so choices can be made within this awareness! Verbal dialogue and exchange is an important part of bringing what is unconscious to consciousness.  Some variations on the form use drawing and writing as a part of this process as well. Change that comes via awareness sticks with us. By moving we give form to the unconscious.
Testimonials
Thanks Marjorie, I'm so grateful for this practice.  Without words, it reverberates somewhere inside and feels like immersion.  Our circle is tender.
Margo
Our recent experience in Authentic Movement guided by Marjorie shed new light on the wisdom of the body. To express feelings through movement made us more aware of the close connection between us, inspiring each of us to listen closer to ourselves and trust our bodies more. The session provided a depth of understanding of ourselves, how movement can be stimulated from the inside out rather than the outside in. Having Marjorie witness us, speak of what she saw and mirror back some of our movements created a feeling of being seen—truly seen—at our core.
Diana and Patrick
 Authentic Movement, as presented by Marjorie, is strengthening my body-mind connections. Life-giving!
Richard
I might also add that I was very touched by the physical sitting in a circle of participants both before and after the authentic movement experience, as we shared thoughts and feelings.  It seemed to me a beautiful way to begin and end, in that it provided a hello and goodbye to this experience of intimacy.
Judith
The experience of moving was internal, expressive, and self-witnessing, and I can see value in all of that as a spiritual practice. I was surprised at the experience of playing the witness part, surprised at the insights that came, surprised at the connection I felt with those I was witnessing. I am still sifting through the personal insights and messages gleaned from all of it.
Dee